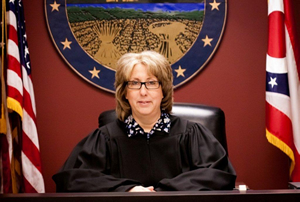 Judge Suzanne Shuman Rister
Mission Statement
The mission of the Paulding County Court is to provide prompt courteous service in an efficient professional manner; promote justice; fairly and impartially safeguard the rights of all who come before the Court; educate the public and provide guidance in rehabilitating the offender.
Court Jurisdiction
The territorial jurisdiction of the Paulding County Court includes all of Paulding County. The Court consists of the criminal division, traffic division and the civil division. The criminal division handles misdemeanor criminal cases. The civil division handles complaints up to $15,000, small claims up to $6,000 and eviction cases.
Administrative Staff
Court Staff:
Angel Pease: Clerk/Court Administrator
Melissa Figert: Chief Deputy Clerk - Criminal Division
Jennifer Boundy: Deputy Clerk - Civil Division
Nancy Mabis: Deputy Clerk - Traffic Division
Laura Bissell: Deputy Clerk - Traffic Division
Probation Department:
Tayler Shaffer: Program Director
Keith Hough: Probation Officer
Karisa Long: Pretrial Services
Victims Unit:
Vicki Lamerson: Victim Advocate
Bailiffs:
Keith Wannemacher
Ashlynn Rice
Payment Center
Online payments for waiver tickets are available or pay your ticket at the Court during normal business hours (Monday-Friday, 8:00 am-4:30 pm)
Personal checks are not accepted
---
Local Court Rules
The Rules of Court can be viewed online or downloaded to your computer.
Please note: The Rules of Court are in PDF format and require the free Adobe Reader for viewing.
---
Hours of Operation
Monday - Friday
Lobby: 8:30 am - 4:00 pm
Phones: 8:00 am - 4:30 pm
Closed weekends and legal holidays
---
Contact Information
201 East Caroline Street, Suite 2
Paulding, OH, 45879
Phone: (419) 399-5370
Fax: (419) 399-3421
Victim Assistance: (419) 399-4476
---
Probation Department
201 East Caroline Street, Suite 3
Paulding, OH, 45879
Phone: (419) 399-3016
Fax: (419) 399-4541